Here I distinguish the north, the south and the middle states of the USA.
You can travel to the Midwest by motorhome all year round. If you fancy expansions to the horizon, highways, dust and pioneering romance, ghost town and abandoned mines on such famous roads as Highway No. 1 or Route 66, then this is the place for us. The region is so large and diverse that it may actually be called a year-round destination. Miles after miles of cotton, corn, potao fields and huge farms, thats why the Midwest is called among other things, the bread basket of the United States.
The southwestern US is culturally heavily influenced by Mexico and known for its many famous national parks. The national parks offer breathtaking nature with fascinating rock formations, large granite mountains, thunderous waterfalls and canyons in the most beautiful colors.
The various fascinating landscapes with high recreational value, provide impressive contrasts and show the many facets of the region. But even not so well-known parks, such as the Petrified Forest National Park, spectacular Sand Dunes, miles of lava fields, the Canyon de Chelly National Monument or many of the state parks in the region have quite their charm.
Parking the RV, watching the Sunrise on stunning scenery, watching Native Americans dancing or simply staring into a starry sky will be an unforgettable experience.
To experience the fascination of "urban America" ​​on the "smaller highways" far away from big sites and "tourist agglomerations" (is always a highlight for me), I offer you as well as breathtaking metropolises telling their own story in each state.
Walking, cycling or fishing - just to name three examples - is especially appealing in autumn. Because just like their famous comrades on the east coast, the forests of the Midwest regularly turn into a magnificent "Indian Summer".
Death Valley, located in the Mojave Desert, is the hottest, driest national park in the US, (located southeast of the Sierra Nevada, mostly in the California area, and to a lesser extent in Nevada) to the Rocky Mountains, in this area you will find the most extreme contrasts ..
I could endlessly rave about this, let me show you ..... I'll take you with me
Get away..... get closer
mit Margit Haegele Reisen /Photography










THE MIDDLE / SOUTH WEST of the USA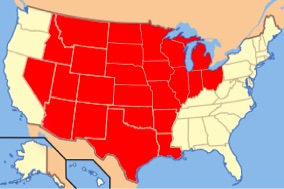 für deutschen Inhalt bitte auf Flagge klicken
YOUR individual USA TRIP, you won't find a second time!
how it works: we talk - we meet - we plan - we travel
© 2001-2019 MH-Photography / MH-UsaTravel
2001-2019 MH-Photography / MH-UsaTravel