Get away..... get closer
mit Margit Haegele Reisen /Photography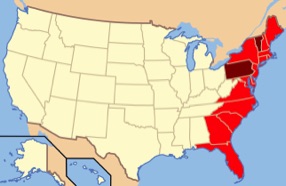 für deutschen Inhalt bitte auf Flagge klicken
YOUR individual USA TRIP, you won't find a second time!
how it works: we talk - we meet - we plan - we travel
The eastern coast of the United States is the coast to the open Atlantic Ocean. It is the earliest European-populated part of the later USA.
The East Coast of the USA is a very popular destination. The reasons for this are manifold, not only fascinating metropolises such as New York, Boston, Washington D.C., Philadelphia and Miami but also spectacular nature, rugged cliffs or soft sandy beaches. The Megacity's located in this region providing the region its exclusivity.
The east coast of the USA also offers breathtaking mountains and deep clear lakes, wildly romantic coastlines and rolling hills.
Among the attractions of the East Coast are also the traditional and famous university cities in the New England states, the Indian Summer but also the old southern states of the east coast should not be missed, since they still exude the charm of the past.
Countless lobster boats cavort in front of the rugged coastline, antique shops and art galleries invite you to stroll. Here you have the opportunity to go sailing at sunset, an adventure trip to deep-sea fishing or whale watching. We dine in excellent seafood restaurants, or put the fish on our own fire at the campsite by the sea.
Inland, the Great Smoky Mountains National Park, coastal towns such as Hilton Head Island, Savannah or Charleston, and the historic and music-loving southern states, just to name a few, making the East a fantastic and predestined destination for us.
Further south, aside from the stunningly gorgeous sunsets, the best Gulf Coast beaches are said to have the softest white sand, the clearest waters, the most fun nature trails and the best fishing on quite shorelines.
From the crook of Northwest Florida to the Dry Tortugas, the calm west coast seas attract everyone from sunbathers to shell hunters to spring breakers to scuba divers and everything in between.
© 2001-2019 MH-Photography / MH-UsaTravel